Biaxial scrap metal shredder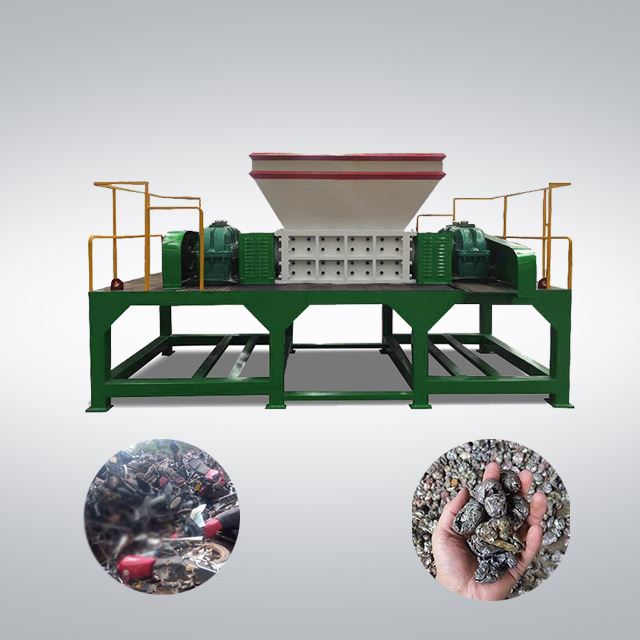 The material suitable for crushing is as follows:
1. All kinds of bagged large-scale items: sack crusher and domestic waste bagger
2. Waste household appliances: TV sets, washing machines, refrigerator shells
3. Pipe: Large Pipe, Pipe Fittings, PE Pipe
4. Waste formwork: wooden pallet, plastic pallet, forklift pallet
5. Waste tyres: trolley tyres, truck tyres
6. Waste Metals: Automotive Shell, Aluminum Alloy, Waste Aluminum Castings, Engine Shell, Lead and Steel Plate with a Thickness of less than 5 mm
7. Kitchen garbage, domestic garbage, animal corpses, RDF derivatives, medical garbage, biological orange pole, garden garbage
8. Rubber Head Material and Paper Mill Winch
Important Notes:
1. The cutter thickness of the shredder is divided into 15 mm, 20 mm, 40 mm, 50 mm, 75 mm and 100 mm. The cutter body can be selected according to the particle size after the object is broken.
2. The shredder cutter is single-claw cutter body. Users who need double-claw cutter body and multi-claw cutter body can contact the business department.
Multifunctional shredder can break large blocks, baskets, pipes, sheets, timber, tires, scrap metal barrels and large rolls of thin films which are difficult to crush. Extra-thick plate precision processing composite structure frame, large angle hexagonal column strong rotating shaft and large caliber solid feeding hopper can be safely put into large raw materials.
The Duanqi multi-function shredder is specially used for the breaking of the corner material under the board and the remaining stock head of logs, which opens up a gap in the market for the breaking of waste and light materials. It is also a new type of double-stick crusher that our company concentrates technicians to carry out in-depth research and development in accordance with the demand of the market.
Scope of application: The main purpose of this equipment is to crush all kinds of wood, such as edge and corner materials of boards and waste boxes.
Working principle:
The equipment mainly consists of feeding bin, broken double stick, distribution control system, discharging conveyor and power drive.
Feeding bin: Place the wood to be broken to prevent the accident caused by splashing out of the wood when it is broken.
Crushing twin rollers: the twin sticks are equipped with wear-resistant knives. After all the cutter discs are assembled, a spiral knife is formed. After rotation, the force of each cutter disc is uniform. The twin rollers ensure that there is no big gap between the two rollers'cutter discs by buckling. The wood crushing is realized by the hooking of the knife and the extrusion between the two sticks.
Power system: The feed is driven by reducer.
Discharge conveyor: independent power system, the whole bolt fixed in the crusher, can be pulled out as a whole, maintenance and replacement parts are flexible and convenient;
The equipment can directly fix, hook, and extrude the materials into the silo through crushing twin rollers to complete the crushing process.