Annual Output 300t Charcoal Production Line



The charcoal production plant should be built in the place that away from the crowd, and there should be enough space for stacking raw materials. It also need the kiln area and kiln work site, so it needs at least 500m2 for annual output 300t charcoal production line. Another factor should be taken consideration-smoke emission. To solve the problem of smoke emission, Tongli had improved the carbonization furnace with its smoke-free purification device, in which the dense white smoke is purified into light smoke. And the pollution problems will be solved. The plant requirement for anuual 300 tons charcoal factory production workshop is relatively simple with an area of about 100m2, and the plant height should be more than 3m, 3.5m is better for the emission of smoke generated in the process of charcoal production. Higher workshop can improve the working environment of the workers in addition it is good for fire prevention.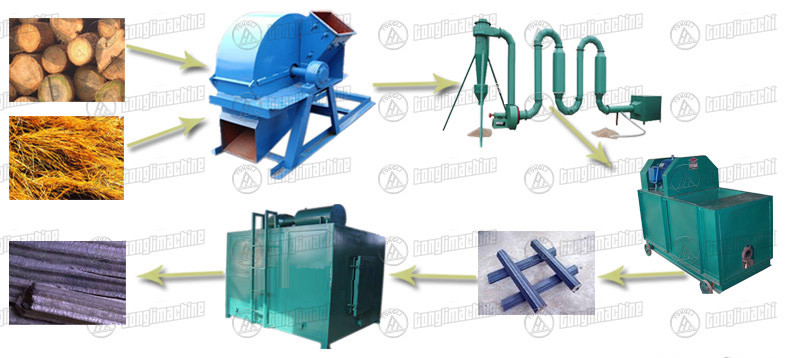 The raw material of machine-made charcoal can be sawdust, straw, rice husks, peanut shells and other agricultural wastes. The mechanism charcoal production flow is breaking&crushing--drying--molding--carbonization--finished charcoal. The mechanism charcoal has the advantages of long burning time, less combustion flue gas and high combustion heat. There is no much requirement in the storage of machine-made charcoal, just get the charcoal cooled completely before storage so as to prevent fire disaster in the warehouse. Mechanism charcoal has wide range of uses, which can be used as mix carbon in the field of industrial and the carburizing carbon in the chemical industries. For the daily life, the charcoal can be used as fuel for heating, barbecue, hot pot and so on.