Mineral Dryer
Product Introduction:
The mineral dyer is used for drying materials with humidity or granularity in the industries of mineral dressing, building material, metallurgy and chemical.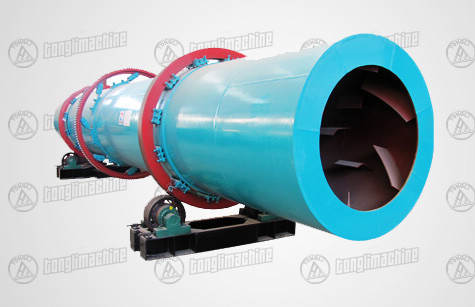 Features:
1. The mineral dryer is designed with anti-sticky drum-wall and assembled material-lifting board.
2. This mineral dryer is divided into secondary-granulating section, balling section, polishing section and drying section, etc. What worth mentioning is that our mineral dryer has advantages of convenient installation and transportation as a result of its flange connection.
3. This mineral dryer is primarily composed of vibrating feeder, heating furnace, drying device, and air intake and air outlet device, etc.
4. The mineral dryer has the features of low noise, little pollution and good drying effect.

Working Principle:
The wet materials are conveyed to the hopper through the belt conveyor or bucket elevator, and then enter into the feed end through the hopper charge and the feeding pipe in sequence. The inclination of the feeding pipe must be greater than the natural inclination of materials in order to make the materials flow into the dryer smoothly. The dryer cylinder is a rotation cylinder with slight inclination with the horizontal line. The materials enter from the higher end, and the heat carrier enters from the lower end; the two contact each other from opposite directions, but there are also circumstances that the heat carrier flows into the dryer body, the wet materials are heated directly or indirectly by the heat carrier to dry the wet materials, and then the materials are discharged from the discharge end through the belt conveyor or screw conveyor.

| | | | |
| --- | --- | --- | --- |
| | | | |
| | | | |
| Diameter of feed materials | | | |
| | | | |
| Consumption of wood waste | | | |
| | | | |
| | | | |