Charcoal Equipments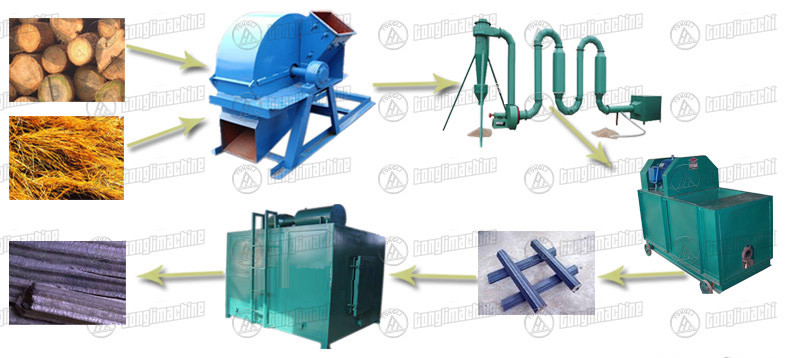 ►Charcoal Equipment-Dryer
The dryer uses electricity, diesel, wind, combustible as drive power to generate hot airflow and transported through the drying cylinder, thus achieving the proper temperature for dehumidifying. The dryers that can be used as charcoal equipments can be drum dryer, airflow dryer and sawdust dryer.
Working principles of drum dryers: 1. the wet material is distributed and blown uniformly in the drum with full contact with hot airflow. 2. the dried material is discharged from the other side of the dryer.
This charcoal production dryer has wide application for materials with moisture not more than 85%, such as brewer's grain, bean dregs, spraying corn bran, slime, Marc, etc.

► Charcoal Equipment-Rods Machine
A rods machine also called molding machine, which is an important charcoal equipment molding the raw material into rods for the next carbonization. Tongli provides rods machine 50, rods machine 80 and latest rods machine.
The rod machine can press bamboo, wood, shells, straw (besides stalk and wheat straw) and other waste powdery materials (Length≤5mm, Diameter≤3mm) into rod-like or briquette materials (Out diameter 50-60mm, Inner diameter 15-20mm). The heat and pressure of the extruding process hold the charcoal together. The general charcoal production flow can be Raw Material Crushing--Drying--Shape Forming--Carbonization--Final products. So the charcoal making equipments shall be Crusher--Dryer--Charcoal Machine(shapes:logs, rods, briquets, etc.)--Carbonization Furnace and other auxiliary equipments.

►Charcoal Equipment-Carbonization Furnace.
Working principle: 1. Drying. At the start the temperature inside the furnace is up to 160 ℃, and the moisture in the rod material is mainly evaporated by external heat and burnning heat. So the chemical composition almost stay unchanged. 2. Initial carbonization. The burning heat makes the furnace temperature rise to 160~280 ℃. In this case, the wood material starts the thermal decomposition reaction and the composition began to change. Wherein the composition is unstable, such as hemicellulose decomposition of CO2, CO, and a small amount of acetic acid and other substances. 3. Full carbonization: the temperature is 300~650 ℃.